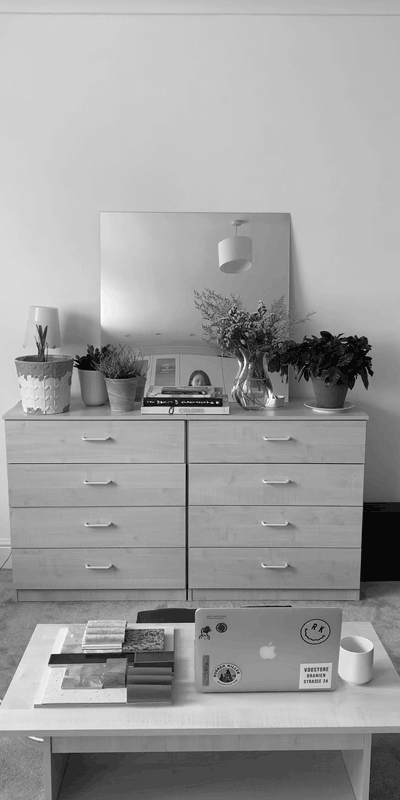 Nichamon Dejprasert
Thailand
Communal Kitchen and Living Space
Dissertation title
Freshly Clicked' or 'Freshly Picked' : The sensory experiences and factors that still drive our appetites for physical grocery shopping
How do you feel at home when you're away from home?
The community kitchen provides a communal space where people can cook, eat, and feel at home together. It acts as a public house for the 21st century. An antidote to the loss of shared spaces in over-priced rental accommodation. A place to foster community and to bring life back to the high-street.
The community kitchen uses materials to create a sense of comfort and domesticity while offering the performance and durability needed in commercial spaces. Small formats, warm tones and natural finishes are used extensively to create a relaxing, down-to-earth and welcoming space.
The kitchen, sitting at the heart of the interior, is loud and lively. The finishes are hard, non-porous and easy to maintain. Surfaces are clean but not pristine. The worktop, a colourful 100% recycled terrazzo, the wall tiles a glazed ceramic that exhibits gentle tonal variations - all designed to make people feel comfortable to have fun and make a mess.
Crafted and hand-made finishes create a relaxed but refined aesthetic. In the dining-area the walls are clad with recycled paper tiles produced by the community members themselves. Each member creating their own tile on joining to engender a sense of ownership and belonging to the kitchen collective. The use of hand-crafted materials is also symbolic of the community itself - it is made by people, and is a collection of similar but unique individuals.
The community kitchen is a place to belong, a place to be yourself, a place to feel at home.
---
Download:
Dejprasert_Nichamon_PDF.pdf
Insta: @aor_nichamon